Baltimore: What's happening, what's happened
Freddie Gray was arrested because he ran from police, but he never committed a crime. We want to understand why he ran, but the outcome serves that purpose.
It was April 12. He was arrested with a violent technique called a leg lace, and while in the back of the van, he indicated to Officer Goodson that he was having trouble breathing. Officers Rice, Nero, and Miller had lifted him into the van, head first, and shackled his feet. Somewhere along the way he had suffered a neck injury, and then he went into cardiac arrest, and stopped breathing.
State Attorney Marilyn Mosby says that Porter and Goodson discussed getting medical assistance for Mr. Gray, but instead, "in a grossly negligent manner", responded to another policeman's radio call for assistance.
At the time of writing, the full story of Freddie Gray's death is yet to emerge. While the officers on the case said initially that Gray died from banging his head on the van, doctors are speculating that Gray suffered Hyperextension injuries, "when the neck is forcibly extended in a backwards direction, stretching the spinal cord". This is an injury usually sustained in trauma, not by accident.
Gray was comatose for a week before he died from his catastrophic spinal injuries on April 19.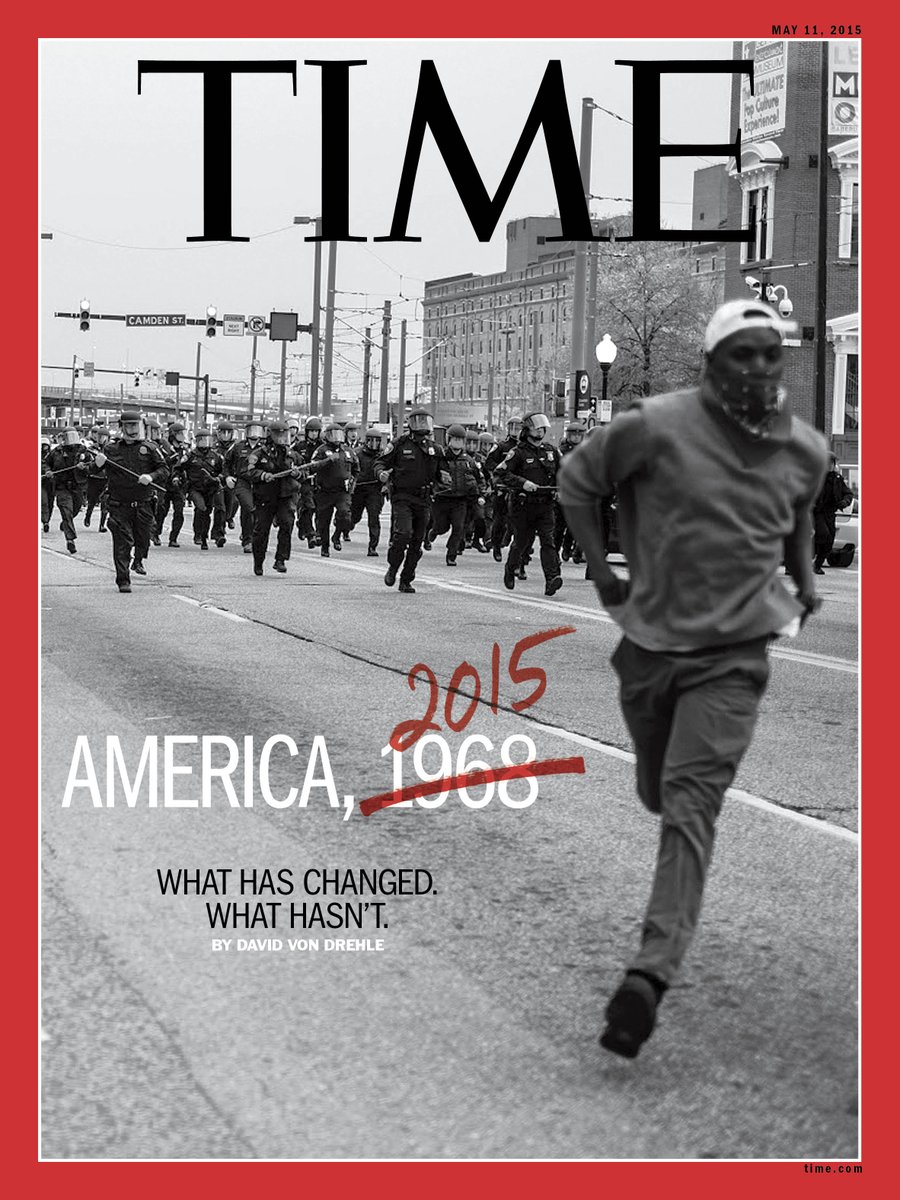 Peaceful protest began in Baltimore, and grew into an almost-violent protest on Saturday the 25th, before a Red Sox vs. Oreilles game, writes Jelani Cobb. That night, a dual reality of both chaos and order existed. But Freddy Gray's funeral was held on Monday the 27th of April, and this is when the "riots" really began.
Time Magazine recently compared the situation in Baltimore to their infamous 1968 riots, when 5000 plus arrests were made by more than 10,000 members of the Maryland National Guard. Of course, civil rights and the end of segregation have changed things, with the black community becoming a majority demographic in Baltimore since the '70s.
City Councilman Nick Mosby pointed to the context of the GFC and Ferguson in discussions with Fox News of the so-called "rioting" that took place. "This can erupt anywhere in socially, economically deprived America" said Mr. Mosby.
If we view rioting as a mass temper tantrum expressed through violence & property damage, white sports fans do that monthly. #Tradition

— jesse Williams. (@iJesseWilliams) April 28, 2015
The so-called riots – which have offended activists who claim this is a word used for black people only – were somewhat of an anomaly, reports the Atlantic. The police over-responded to rumours of a "purge" spread by high-schoolers. Not all of those present at Mondawmin Mall were there intending to protest, as many High Schoolers catch buses home from the area. With police in riot gear stopping all transportation, frustrated youths began to lash out.
These are not gangs. These are children. You close Mondawnin, close the metro stop. And wonder why children are just "around" Mondawnin.

— Koh-i-Noor (@seabethree) April 27, 2015
In breaking news, newly appointed State Attorney Marilyn Mosby announced Gray's death was ruled a homicide by the medical examiner. Criminal charges will be filed against the six officers, pictured below, whose names are Officer Caesar Goodson, Officer Garrett Miller, Lt. Brian Price, Officer Edward Nero, Sergeant Alicia White, and Officer William Porter.
Mrs. Mosby yesterday promised the youth of Baltimore that she would seek justice on their behalf. She also encouraged peaceful and productive rallies to continue, in the same vein as President Obama.
On April 29, the President made an impromptu 15-minute speech on the issues that black America has been facing, which was praised as "honest" by mainstream media. However, he condemned violent protest in a way that angered many.
You want us to condemn black folks being violent against PROPERTY but you NEVER condemn police killing actual PEOPLE. #Explain #JustTry

— jesse Williams. (@iJesseWilliams) April 28, 2015
Presidential candidate Hillary Clinton also spoke up, promising to address high rates of incarceration among black Americans. Other political reactions were partisan attempts to gain from the situation, as Governor Larry Hogan (GOP) criticised Baltimore Mayor Stephanie Rawlings Blake (DNC) for waiting 3 hours from the outset of violence to  call in the National Guard.
But what separates Marilyn Mosby from both these wider political figures is that she is using more than words to address the problem. Baltimore is celebrating her proactive attitude today, as she promised to hold charges such as manslaughter, assault, misconduct in office, second degree murder, and false imprisonment.
"To the people of Baltimore," she said, "and the demonstrators across America: I heard your call for 'No justice, no peace.' Your peace is sincerely needed as I work to deliver justice on behalf of this young man."
It isn't surprising that the black community in Baltimore has become politicised and it's even less surprising that they have become "violent". A couple of years ago, as the black community was suffering the dispossession and poverty brought about by the GFC, it came to light that banks had been targeting black communities with racist policies and unfair loans. When these communities couldn't pay these subprime mortgages, their houses were seized.
Some of Baltimore residents cite a drug epidemic that has plagued the community since the 1950s as the reason for this mistrust. Baltimore's black men have suffered a 37% unemployment rate in recent times, too. It is important to note the context for the violence that is occurring in that city.
The death of Freddie Gray was a "watershed moment" that reverberated across the country, and has become yet another "tipping point" for America in the three years since Trayvon Martin's case made headlines. But can it exceed the outcomes of Ferguson (Michael Brown) and New Jersey (Eric Garner) and actually make a change?
President Obama said:
"If we really wanted to solve the problem, if our society really wanted to solve the problem, we could. It's just it would require everybody saying this is important … That we don't just pay attention to these communities when a [shop] burns, we don't just pay attention when a young man gets shot or has his spine snapped. We're paying attention all the time because we consider those kids our kids, and we think they're important and they shouldn't be living in poverty and violence. That's how I feel. …That was a really long answer, but I felt pretty strongly about it."