Hacks that will make you scream "Hallelujah!"
An apple a day keeps the doctor away, and counting sheep to fall asleep are both old wives' tales that we are encouraged to try. However, these wives didn't focus on what really matters: where were their beauty and fashion hacks?
Thanks to Pinterest and other social media avenues, a number of beauty hacks have been compiled all over the internet. However, it's often hard to pinpoint which ones actually do what they claim. But fear not; the ones in this list are ones you can trust.
1. Terrific Toothpaste
If you're tired of rusting silver on your favourite jewellery, then this will be your hero. It's personally a trick my mother has taught me, and one I know that this works. You can use this method in bulk, or prior to needing the jewellery. The secret to bringing the shine and life back to silver is toothpaste! Scrub some toothpaste using a wet cloth or an unused toothbrush, rinse and leave it to dry. Your silver jewellery will be like brand new.
2. The Coconut Oil Champion
For the broke university student, this is a cheap way to remove your eye make up. Stubborn eye makeup is removed without hassle, similar to products that are being raved about on shelves. Coconut oil has so many more separate uses along side this hack. Aside from a healthy alternative to cooking oil, it works wonders as a face and hair moisturiser.
3. Closet Clutter
This is an amazing hack when it comes to trying to organise your closet. Face all of your hangers with the gap of the hanger facing you. Once you wear an item, place it back the opposite way. After a period of roughly six months, you will be able to distinguish what clothes you don't necessarily need anymore. They will be still facing the way. This will allow you to keep your closet clear and give you the chance to sell or rehome old clothes. One woman's trash is another woman's new outfit
4. Long Live the Lipstick
When applying your favourite lipstick, it can be bittersweet. It looks amazing, however you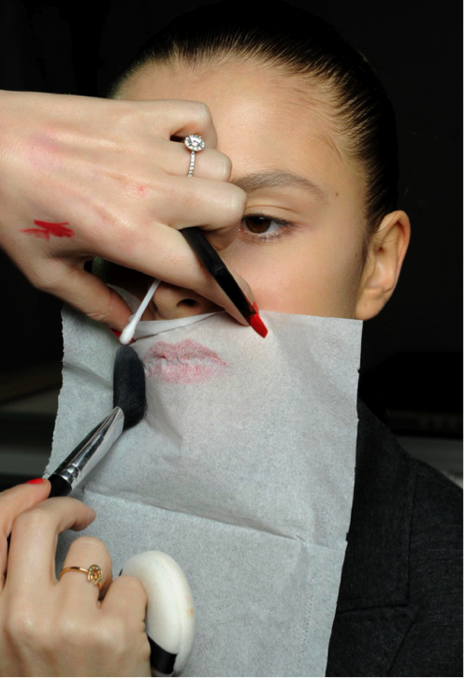 never know how long it will last. To prevent smudging lipstick on your teeth and make it last all day, take a sheet of toilet paper, press it against your lips and dust some translucent powder over the top. Your lipstick will have that proud finish for longer and it won't have you nose to nose with a bathroom mirror all night.
5. Bouncy Bobbies
To stop bobby pins moving from their assigned seats, the hack that you need is hairspray. It is that simple! Spray your pins with before placing where desired into your hair. For extra security, place the pin with its groove facing down. For an even tighter hold, cross the pins over one another. This will allow you to enjoy your hairstyle without having to constantly adjust.
6. Beautiful Brushes
If you can't afford an expensive brush cleaner, but you can literally see the bacteria growing in your brushes, there is a way to clean them without spending an entire weeks pay. Baby shampoo or a bottle of hand sanitizer works just as well. Baby shampoo in particular not only cleans the brush, but once dry, the brush will be incredibly soft on your face. It might be the added incentive you need to make sure you're cleaning them often
7. Correct Concealer
Welcome to looking refreshed after pulling an all nighter from studying. If you're still using a swipe of concealer under your eye, you're living in the past. Try a triangle with the base being right underneath the eye. Buff it in and you'll have an airbrushed finish. Along with this method, make sure
that you understand the colour coding of concealer. Green is a great option to clear up redness including any nasty blemishes. Alternatively, you could also pick up a primer that has green already inside such as Stila* all day correct. Yellow also hides dark circles, bruises or veins. Choosing the correct concealer for the correct job will disguise problem areas better than that wig disguised Hannah Montana.
8. Expired Makeup
Make up expiry dates are something we should pay attention to, but probably don't. A great hack for this is to use masking tape or a label on your makeup. Sharpie the date you purchased it on the tube to keep track of its purchase. Use online guides to check these dates regularly. It is dangerous to use make up that is expired, with mascara and eyeliner being a culprit you should watch with a close eye. These eye products for example need to be replaced up to every three months. This will prevent exposure to any harmful bacteria.
9. Purple Planner
This is an app you need to have on your phone. It's going to change the way you organise your closet and it will prevent you from overspending when shopping. You will have the power to categorise and add to your closet appropriately. The application is completely free making it more of a holy grail phone app. You can plan outfits for your next date night or possibly stop yourself from buying your 5th little black dress. You can do this by season or based on what you buy often.  This application is an excellent opportunity to remain organised but it also will recommend you outfits based one what you have in your closet. It will help you to look your best without breaking your bank or wasting your time. You can take pictures of your clothing and add from the web. You can also invite your friends and get their advice on your outfit. This app is a true hero.
These hacks work and they will truly make you scream for more. University is tough, but little tricks like these make getting through the day just that much easier. That's what makes them so amazing. You can add them to your daily routine or incorporate them into any hour of need. I know that I have personally used these and they have worked wonders for my routines.
Notes: This piece has been edited since posting due to spelling in title. 
*The original spelling of Stila included two L's, and has since been rectified